Fore! Film takes a swing at Sydney tar ponds
Submitted photo by Carrie Ellen Gabriel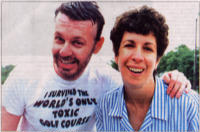 From left, Kevin O'Keefe (Lefty McKinnon) and K.C.- Coombs (Carmie McKinnon) star in The Tar Ponds Loonie Give-Away.


Toronto- What's so funny about toxic waste? According to the makers of The Tar Ponds Loonie Give-Away, plenty.

The made-in-Cape Breton political satire, which premieres Feb. 13 at The World. of Comedy International Film Festival being held at the Town Hall Theatre in Toronto, stars K.C. Coombs and Kevin O'Keefe as an unsuspecting couple who win the Sydney tar ponds in a government contest.

While they realize their dreams by turning the land into a golf and country club, the problem is the golf course is built on Canada's worst toxic waste site and no one ever makes it to the 18th. hole.

Both Coombs, a Montreal based actor, and O'Keefe, an award-winning producer at Vision TV in Toronto, were born on the island and also served as producers of the independent low-bud- get feature.

Shot on location using a mainly local cast and crew (including Heather Rankin of Mabou's The Rankins), the film is directed by Romy Goulem, whose award-winnning first film, The Drive, has played to audiences around the world.

With just an 11-page outline to use as a script, the entire picture was improvised. "The film is a labour of love," said Coombs, who compared the process to giving birth. "In both cases I'm thrilled with the results and glad it's friggin' finished."

O'Keefe said he is "thrilled" the film is screening on Friday the 13th. "You'll see the unluckiest couple in the world win the worst prize on the unluckiest day of the year," he said. "I hope the premiere of our film goes better than the opening of their golf course."

Meanwhile, Coombs and O'Keefe are hoping the film will be accepted into the Atlantic Film Festival in Halifax this September. If so, they plan to have a screening in Sydney around the same time.