Plan for tar ponds cleanup laid out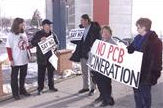 Ray Fahey-Cape Breton Post
Sierra Club of Canada Cape Breton chapter members (left to right) Marlene Kane, Dan MacMullin, Bruno Marcoccchio, Debbie Ouellette and Neila MacQueen stand at the entrance to the Delta Sydney, Tuesday afternoon, as government officials were in the hotel announcing the details of the tar ponds and coke ovens cleanup. The Sierra Club members are opposed to incineration of PCBs as part of the cleanup process.
By Tanya Collier Macdonald
Cape Breton Post
Wed. Feb. 9, 2005
Sydney - The $400 million tar ponds cleanup was set on course Tuesday for a government-controlled environmental assessment, although proponents of a more independent process now get the chance to argue for their option.
During a media briefing held in Sydney, government representatives said the next 30 days will be spent gathering public comment on the cleanup plan.
Following the public consultation, Public Works and Government Services Canada, Environment Canada and Transport Canada will submit its findings and a recommendation to Environment Minister Stephane Dion. Then Dion will decide whether the review will continue as a comprehensive study or switch to a full panel review. "(The ministerís) decision is irreversible," said Cheryl Benjamin, spokesperson for Canadian Environmental Assessment Agency, the federal body co-ordinating the assessment process.
Benjamin said both review processes should take about 13 months. Both require a detailed scoping document and public consultation, and are transparent, she said.
The key difference is the "manner" in which the reviews are conducted. The comprehensive study is steered by government and the full panel review is directed by a non-government body, she said.
A 30-page scoping document was also released Tuesday.
Senior officials from Public Works and Government Services Canada presented a draft copy that provides background on past public consultations and environmental investigations, and briefly outlines the cleanup plan.
The scope of the project is also detailed, including factors to be considered under a comprehensive study. Those factors include the environmental effects of the project and its significance, comments from the public, the cleanupís technical and economic feasibility, the projectís purpose, alternative methods, the possibility of a followup program, and whether renewable resources will be significantly impacted. It will also determine the need for the cleanup and any alternatives.
A detailed description of the project, as required by law before work can begin at the site, was also handed out.
Environment Canada and the Sydney Tar Ponds Agency developed the proposed cleanup plan that consists of several components. These include methods aimed at controlling surface water at both the tar ponds and coke ovens sites and removing and destroying PCB-contaminated sludge.
Incineration is the destruction method chosen and itís planned that a temporary incinerator set up at the Victoria Junction Wash Plant will burn up to 150,000 tonnes of sludge from the sites for at least three years.
David Darrow, chief executive officer of the provincial tar ponds agency, said the total amount of PCB goo is 3.8 tonnes. "Itís about one ounce of PCB material per tonne," said Darrow. Contaminants that arenít removed from the sites will be treated or contained. The properties will then be restored and landscaped. A long-term monitoring and maintenance plan will also be developed for the remediated areas.
Itís expected the project will take until 2013 to complete.
Hubert Jacquin, spokesperson for Public Works and Government Services Canada, said the public consultation will consist of a series of open houses that will begin in Sydney, Monday at the Nova Scotia Community College Marconi Campus. The open houses will continue Tuesday at St. Michaelís Society Hall, Victoria Road, Whitney Pier; Wednesday, Feb. 16, at Ashby Legion Hall, State Street; and Thursday, Feb. 17, at St. Georgeís Hall, Nepean Street.
The public is also invited to submit comments by e-mailing tarponds@pwgsc.gc.ca, mailing to Public Works and Government Services Canada, PO Box 1280, Station A, Sydney, N.S., B1P 6J9, by telephoning (902) 564-2534, or by faxing at (902) 564-2597.
The scoping document and project description are available for public review at the McConnell Library in Sydney, University College of Cape Breton library, and the Sydney Tar Ponds Community Office on Charlotte Street. The scoping document is available at www.pwgsc.gc.ca and the project description is available at www.tarpondscleanup.ca.
tcmacdonald@cbpost.com