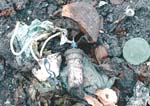 Incinerator to be probed


By Tanya Collier, Cape Breton Post, February 10, 1999
---
The Nova Scotia Environment Department is investigating the burning of biomedical waste at the local incinerator.

Lawrence MacDonald, regional manager, said the investigation was sparked immediately after a Cape Breton Post story published Friday reported biomedical waste was appearing in the Cape Breton Regional Municipality incinerator's landfill.

The information was presented to the Post by Marlene Kane, a concerned citizen and a member of the Joint Action Group (JAG). She provided photographs of used syringes, blood product containers and additional unidentifiable hospital products in the midst of rubbish at the facility's landfill.

"It certainly raised some eyebrows," said MacDonald. The department will interview Kane, along with staff and management at the incinerator, which is located on Grand Lake Road.

"There is a lot of information we have to gather." MacDonald said the department will not force the incinerator to shut down during the investigation process.

The department hopes to have enough information by next week to provide an evaluation concerning the burning of biomedical waste at the facility. MacDonald said he was pleased Mayor David Muise is supporting an investigation into the incinerator's operation.


Test C.B. incinerator, mayor tells province
Halifax Chronicle Herald, February 10, 1999
---
SYDNEY - Cape Breton Regional Mayor David Muise wants the provincial Environment Department to test the municipality's regional incinerator.

"We want to be sure that all material going through the incinerator is treated and disposed of in a manner that will not be harmful to the environment or the public," he said Tuesday.

The mayor called for the investigation after last week's media reports of unburned biomedical waste being found among the smouldering ash at the incinerator.

In the debris were blood-filled syringes, operating scrubs, canisters of hospital fluids and a doctor's mask. A local activist toting a video camera walked onto the site in January and filmed the unburned material.

The burners run at very high temperatures, "and the ash is disposed of in a properly engineered, lined landfill cell," Mr. Muise said. "But we want the Department of the Environment to review our system and processes to ensure that all waste is being handled safely."

The review is expected to begin immediately, and the incinerator will continue operating.