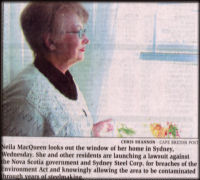 HALIFAX (CP) - Neila MacQueen stares out the front window of her small home in Sydney, N.S., and wonders if there is anyone on her street who hasn't been touched by cancer.
The men who live on either side of her have bowel cancer. Just down the way, her friend's 14-year-old son recently passed away after a brief fight with cancer. And the woman across the street is struggling with thyroid cancer, after watching both parents succumb to the disease.
All of it, she's convinced, is the result of decades of exposure to a lethal brew of chemicals sitting in what has been described as Canada's worst toxic waste site. And it's what has motivated her and about 85 other residents to initiate a massive lawsuit Thursday that claims pollution in the Cape Breton community has caused widespread health problems and death.
"The biggest thing I want is an apology from the government and the people who did this to us," MacQueen, 63, said Wednesday, one day before her lawyer planned to file the notice of intended action against the province.
"Nearly every house on this street has cancer in it. They killed the people, my dear."
MacQueen, who was diagnosed with lung cancer four years ago even though she's never smoked, is joining a group of up to 200 potential claimants who insist that elevated levels of iron, lead, nickel, zinc, benzene and arsenic have poisoned the soil their houses sit on and the air they breath.
The claim will name the Nova Scotia government and Sydney Steel Corp. for breaches of the Environment Act and knowingly allowing the area to be contaminated through years of steelmaking, said the lawyer representing the group.
Ray Wagner will file notice in Halifax, giving the province the required two-month notice of action before litigation can move forward. After that, Wagner said he will file his first statements of claim against the other defendants - Nova Scotia Power Corp., CN Railway, the federal government, and Domtar, a company that ran a chemical refracturing plant next to the Sydney Steel coke ovens.
Wagner said he is already building a scientific case for the unproven claim that chronic exposure to the chemical waste can lead to a slew of illnesses.
"We feel pretty confident we'll be able to do that," he said at his Halifax office, adding that 204 people have expressed interest in joining the suit that could involve tens of millions of dollars in damages.
"Doctors will be able to give opinions on the correlation between location and health."
Parker Donham, spokesman for the Sydney Tar Ponds Agency, an organization that oversees the province's involvement in a massive and costly plan to clean up the tar ponds and coke ovens site, dismissed the lawsuit as "more negativity.''
"The province is very confident it has done nothing that would attract any liabilty, and we certainly intend to defend the province vigorously,'' he said Wednesday night.
"Mr. Wagner has come into town every three months for the last year and a half and he's always just about to launch this suit. We think of this as a phantom lawsuit.''
Residents of the poor, industrial neighbourhood that sits in the shadow of the closed steel plant have insisted for years that high rates of cancer, birth defects and other illnesses are directly related to the toxic sludge.
But researchers haven't made the link and have said lifestyle and diet likely played a role in greatly elevated rates of cancer.
That infuriates MacQueen, whose father and brother both died from heart attacks when they were under 50 and whose son was born with cerebral palsy.
The soil around her house, just 100 metres from Sydney's noxious tar ponds, has dramatically high levels of lead, arsenic and other cancer-causing hydrocarbons, and the stench of chemicals hangs over her neighbourhood.
Her dream of selling her small store and home has evaporated, since she claims she wouldn't be able to get more than $20,000 for a house that's worth at least four times that.
"The government's downplaying this and that's why I'm mad," said the elderly woman, whose closest childhood friends have all given birth to children with serious health problems. "Our health is being taken away from us."
The area around the Sydney Steel plant and the tar ponds was described by the federal government several years ago as Canada's worst environmental mess. The ponds themselves contain 700,000 tonnes of tarry, toxic sludge produced by a century of steelmaking in the heart of Sydney.
Donham said those involved in the suit represent "two-tenths of one per cent'' of the residents of the Sydney area.
"The other 99.8 per cent would rather solve the problem of the tar ponds and look forward to the great future this community has,'' he said.