Lingan Plant Province's Top Polluter
By Tanya Collier MacDonald
Cape Breton Post
Wed., Sept. 24, 2003
View further analysis (with comparison tables) at www.pollutionwatch.org
The Lingan Generating Station spews nearly half of this province's total air pollution making it the dirtiest in Nova Scotia, reports an environmental watchdog.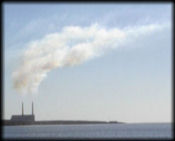 "It's time it cleaned up its act," said Rick Smith, executive director of Environmental Defence Canada, which partnered with the Canadian Environmental Law Association and Canadian Institute for Environmental Law and Policy to develop a list of the top 10 air polluters in Nova Scotia.
The list was released Tuesday.
"It's putting hydrochloric acid, sulphuric acid, hexachlorobenzene and mercury up its stack every day," said Smith. The chemicals are both harmful to human health and the environment with some known to cause breathing problems and others identified as carcinogens. What's needed are generating stations fuelled by natural gas as opposed to coal and oil, said Smith. "That would make an immediate difference," he said. "And it needs to happen quickly in Nova Scotia."
Other Cape Breton facilities listed as top air polluters are the Point Tupper Generating Station in third spot, the Point Aconi Generating Station ranking fourth and the Stora Enso Port Hawkesbury Ltd. as the ninth top polluter in the province.
In total, Cape Breton facilities are responsible for nearly 65 per cent of Nova Scotia's air pollution, reported the three groups collectively known as PollutionWatch.
Nova Scotia Power Inc. has four of its power plants on the top 10 list which makes it responsible for nearly 84 per cent of the province's air pollution, he continued.
"Over the last seven years across Canada, pollution has increased by 20 per cent," said Smith. "These big polluters in Nova Scotia have old technology. Even if power consumption remains at current levels, there are ways to reduce air pollution and those steps aren't being taken," he said.
He's hoping increased public awareness will force companies to improve their operations. "There's a real power to drag these more delinquent industries into the light of day and comparing them to their competitors, in some cases, who are doing a much better job," said Smith. "Canadians are willing to reward good corporate citizens."
NSP applauds the efforts of the environmental watchdog. "We see that PollutionWatch is correctly raising the level of concern and raising the need for action," said Margaret Murphy, spokesperson for NSP. "They want to make sure that this issue doesn't drop below the radar screen and it continues to get peoples' attention."
Murphy said the power company is committed to being cleaner and that includes efforts at the Lingan Generating Station - its biggest facility at a capacity of 600 megawatts a day and providing about 25 per cent of Nova Scotia's power.
"We're introducing a new gas-fired turbine we're commissioning this fall here in Halifax," said Murphy. "Increasingly, we're looking hard at our older power plants in our fleet and asking what new technology additions may be appropriate, might those be scrubbers? We know we need to reduce air emissions by targets set out (by government)," said Murphy.
But coal-fired plants are likely to continue operating for decades, she added. A multi-faceted approach with the use of lower sulphur coal, clean-coal technologies, natural gas and more renewables is a more likely direction, said Murphy.
As well as making industry more responsible, Pollution Watch is also calling on government to enact regulations to reduce and eliminate pollutants released into the air by industrial facilities.
The Nova Scotia government has committed to following an energy strategy to reduce mercury emissions by 30 per cent below their 1995 levels by 2005, and a further reduction of 60-90 per cent by 2010. But, sulphuric acid continues to be emitted into the air - a concern not addressed in the provincial government's current energy strategy.
Pollution Watch tracks pollution across Canada on its Web site, www.pollutionwatch.org, based on data collected by Environment Canada through the National Pollutant Release Inventory.
tcmacdonald@cbpost.com