Muggah Creek Watershed
---
Pier families on the move
By Tanya Collier, Cape Breton Post, May 20, 1999
---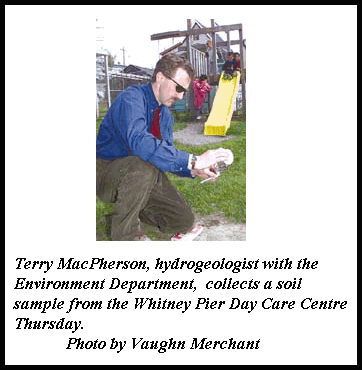 The number of families temporarily moved from a Whitney Pier neighbourhood has climbed to nine.

Terry MacPherson, hydrogeologist with the Nova Scotia Environment Department, said eight families have now been temporarily relocated from Frederick Street, along with one family from nearby Laurier Street.

Environment Minister Michel Samson gave four families the opportunity to leave their homes last Thursday while the department continued testing arsenic goo seeping into their basements. The number escalated to seven Friday and continued to increase to the present total.

The government claimed it decided to move the residents out of compassion, not need. The families are not at risk, Samson said.

Parents of children attending a Whitney Pier daycare centre confronted Environment officials who visited concerned residents in the community Wednesday.

The Whitney Pier Daycare is located on Laurier Street, next to the home of one of the relocated families.

MacPherson said the department will visit the facility today to address the parentsí concerns.

Lemuel Skeete, executive director of the daycare, said he has not noticed seepage at the facility but will be pleased to have testing performed to ensure arsenic is not in the building.

Forty children attend the centre.
---
Government tries to stem tide of panic
Whitney Pier blitzed with info in aftermath of evacuations
By Tera Camus / Cape Breton Bureau, Halifax Herald, May 20, 1999
---
Sydney - The provincial Environment Department has launched an information blitz in Whitney Pier to quell a panic that began after several families were evacuated.

Department workers are handing out kits that explain the evacuation and the discovery of arsenic near Tupper Street.

Provincial workers are also inspecting basements and answering questions. "For me to go in there and poke around and be able to say there's nothing here that's even close to what we've looked at over on Frederick Street . . . they're happy to hear that," Environment spokesman Terry MacPherson said. "We're trying to get answers for homeowners as best we can."

Ten Environment workers are working in Whitney Pier. They will next speak to residents on Curry's Lane, Laurier Street and Lingan Road.

"This groundwork that we're planning will likely give us some definitive information on what's actually happening in terms of groundwater flow, and direction of (toxic) flow," Mr. MacPherson said.

The public relations exercise was ordered by the department after 100 residents gathered Tuesday to protest being left behind after nine families were moved to a local hotel.

Many of those moved last Thursday are Frederick Street residents, who have complained for more than a year that toxins found their yards and a local brook are making them sick.

The meeting represented the first community response to the concerns about toxins. Frederick Street residents, many of whom moved to the neighbourhood 15 years ago, are considered newcomers and their complaints are blamed for a drop in property values.

Regional Coun. Lorne Green said people were slow to speak out because of government inaction on Sydney's toxic waste created by the coke ovens and tar ponds.

"I really don't think the people thought the government was going to do anything. . . . I know people may think it's long but it's only been a year," Mr. Green said.

"Hopefully this will bring the community together. Maybe they'll stand together."

Frederick Street resident Rick McKenzie said his neighbours should have stood with them a year ago.

"We're happy to see they're finally coming out of the woodwork to say maybe we were right all along," he said. "If it had been bingo or they were given beer away, they would have filled the hall. . . . They should have come out earlier, stuck with us, helped us and went to the JAG meetings."

The Joint Action Group responsible for the cleanup has not been part of the evacuation measures. But it ordered the government to define a separation zone and move out residents by June 1.

Two brothers who have protested for 10 years government's failure to clean up Sydney's toxic waste say people are beginning to wake up. "The reality is starting to hit them," Ron Deleskie said.

Don Deleskie, who went so far as to stage a hunger strike in the 1980s, says it's nice to see people speak out about the toxins. He said only a grassroots movement can change Sydney's toxic legacy.

"The Joint Action Group is spending our tax money . . . and they should be down there (in Whitney Pier) explaining to people, 'Look, you have nothing to worry as far as that arsenic goes because that looks like pure water compared to what's in the soil.' "

He said he believes JAG has failed the community.

"JAG hung their shingle out and said they represent the community, but in my opinion they don't represent me, they don't represent this community, they represent the government."

A spokesman from JAG couldn't be reached for comment.
---
Next article

---
Click here to see the similarities between Sydney and Love Canal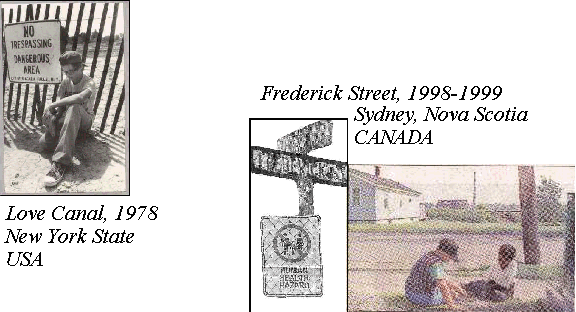 ---
Back to [In the News]

---

---