Muggah Creek Watershed
---
Tests could take months
Sydney families won't get back to homes soon
By Tera Camus and Cameron MacKeen / Staff Reporters, May 21, 1999
---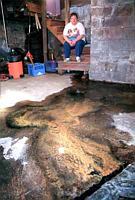 Sydney - Frederick Street residents could be out of their homes for a lot longer than expected.

Environment Minister Michel Samson said the 10 evacuated families could be out of their nine homes for at least two to three months. Last week, he said two to three weeks.

"At this point in time we are looking at two to three months to carry out all the testing that is required," Mr. Samson told reporters Friday at Province House.

But Mr. Samson also said it is possible the evacuation could last longer. "That's what are saying (at least two to three months)," he said. "We just don't want to raise unnecessary expectations for the residents."

Housing officials have been meeting with the residents one-on-one for the past week, attempting to determine their long-term needs. Low-income housing or apartments are being considered.

All meals are now being provided, children are being sent to and from school by taxi, and laundry services - even refrigerators - have been delivered to their rooms at the Delta Sydney.

Debbie Ouellette said she's not interested in moving into a low-income unit or back to her contaminated. "When I leave here, I want a house to move into," she said.

Her basement, like several other homes, has arsenic seeping in. The same toxin was also found in orange goo behind her home, about eight metres from her back door. Tests revealed 49.9 milligrams of arsenic per kilogram of soil. Other families were moved for compassionate reasons. Provincial Environment officials will be out again next week surveying other homes in the area, handing out information sheets, inspecting basements and answering questions.

Sometime next week, the provincial and federal governments will have a public meeting with all concerned residents, hosted by the Joint Action Group.

Some will likely welcome that meeting, including the new Community Alliance environmental group, which wants JAG to account for its actions on Sydney's toxic environment in the past three years.

JAG, which includes provincial, federal and municipal governments and concerned citizens, is mandated to clean up the toxic sites and address health concerns.

Many alliance members are former JAG members.

Rob Jessome of the alliance said the group has requested meetings with all levels of government. "We want a commitment on funding. We want a commitment on work starting, and we want to impress on them that if they they think everything is going well because of the JAG process, that it's misdirected."

Regional Coun. Lorne Green also questioned JAG's role in the evacuation in Whitney Pier. "It's almost like they've disappeared in this one. . . . It almost seems they've been told, 'You guys stay away from this.' "

But JAG spokeswoman Germaine LeMoine said the group adopted a motion earlier to get government to move people out by June 1. The group has profiled Sydney's toxic waste problem, studied the rates of death and plans a study on the cause. And a geophysical study was just completed on volatile underground pipes at the coke ovens, she said.
---
McKenzie pleads for premier to make tough decisions
By Steve MacInnis, May 21, 1999
---
After a six-day, eight-stop whirlwind tour of Canadian and American toxic waste sites, Juanita McKenzie came home to Cape Breton this week with a strong message for Premier Russell MacLellan.

"Be the premier that really makes a difference. Don't be a backbencher but come out in front and show the leadership abilities that this province needs right now," said McKenzie, who has led the charge for relocation for residents of Whitney Pier's contaminated Frederick Street.

"This is certainly not Russell's legacy but yet as premier he is the one now responsible for the mess left behind by others. I want him to stand and make the decisions that are needed to protect my family and others."

McKenzie was among nine community and government officials to tour toxic waste sites in Ontario and New York including Love Canal – in the LaSalle district of Niagara Falls, N.Y. The trip was arranged through the Joint Action Group (JAG) – a community-based organization mandated to develop a remediation plan for the Muggah Creek Watershed.
---
Housing options to be examined
Pier residents could be out of homes for three months
By Steve MacInnis, May 21, 1999
---
Residents relocated after traces of arsenic were found in the homes will spend the long weekend examining future housing options.

Ten families from a Whitney Pier neighbourhood are staying at the Delta Sydney this week after the provincial government moved them out after finding arsenic in their basements.

The relocation targets Frederick Street and there is no move at this point to expand the effort.

Resident Juanita McKenzie said government officials are still insisting the levels do not pose a health hazard and moved them only to relieve the considerable stress they have been under.

"I'm not going back to that home. There is going to be no more Frederick Street," she said, of her former neighbourhood.

The options presented allow for residents to receive assistance in renting a home or be placed in homes owned by the Department of Housing and Municipal Affairs. McKenzie commended government officials Friday for their efforts to date to ensuring their concerns are being addressed while away from their homes. "They have been very accommodating so far," she said.

Read about the new


Next article

---
Click here to see the similarities between Sydney and Love Canal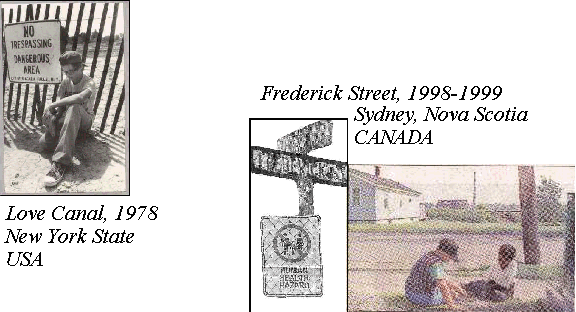 ---
Back to [In the News]

---

---