Muggah Creek Watershed
---
---
PUBLICATIONThe Fredericton Daily Gleaner
DATE Monday June 28, 1999
PAGE C8
HEADLINE:
Protestors target MacLellan
Cape Breton residents demanding they be moved from houses bordering a toxic waste site have resumed their protest in front of Premier Russell MacLellan's home.

A small tent community sprung up in a field across the street from the premier's upscale home 10 days ago.

It ended last Tuesday when protest leader Ann Ross left the site.

About 20 residents resumed her fight Friday, setting up about 15 tents.

By Sunday, the camp had grown to include picnic tables, coolers, barbecues, heaters and a large children's pool.
---
Tent protesters vow: 'we are not leaving'
By Sharon Montgomery, Cape Breton Post, June 29, 1999
---
It all began 10 days ago with one tent pitched across from Nova Scotia Premier Russell MacLellan's home in Sydney.

By Sunday, the number of tents had grown to about 15, along with picnic tables, coolers, barbecues, heaters and a large children's pool -- suggesting protesters are there for the long haul.

"The pool is not a necessity or a luxure, nor are we turning this into a circus," said Ada Hearn of Upper Lingan Road.

"We are not leaving and we needed something where the children could cool off."

Hearn said the pool was donated and the water provided by Coastal Mobile Pressure Wash Ltd., of Whitney Pier. She said this shows support from the public continues to build.

"We have 25-30 sleeping out here a night, some from North Sydney and even New Waterford. We even had a man from teh United States come and join us."

Hearn -- camping at the site with her two children -- said more than 100 visitors came through on Saturday offering support, dropping off coffee, hot chocolate or sandwiches. Sunday the campers attended services at the United Church located across the street.

"The congregation welcomed us with open arms and the priest even mentioned us during the service."

hearn said there are many environmental and health issues they want addressed, including that everyone living near the noxious Sydney tar ponds should have the option to move.

She said they also want more independent testing done in the area, and testing done on their children.

Hearn said they don't have any plans to leave and even have a 20-foot by 40-foot tent being donated.

"We are also waiting word from the board of directors of the United Church on if we can set up a port-a-pottie on their land by this field."

Residents from the Whitney Pier area pitched tents on a field on Hospital Street across from MacLellan's house 10 days ago, in an effort to get the government to take responsibility for environmental contamination. The tenters packed up Tuesday, but were back on Friday.

Hazardous chemicals of all descriptions were dumped on the Sydney Steel plant site which is part of the .

At the top of the watershed is an overstuffed municipal landfill which is also leaking down on to the coke ovens site and into the tar ponds which contain 700,000 tonnes of highly toxic PCB and PAH ladened goo.

The federal and provincial governments agreed to a voluntary buyout of 24 homes on Frederick Street and Curry's Lane, which residents view as discriminatory, feeling if the area is unsafe for two streets, it's unsafe for everyone else.

Eleanor Axworthy, of Lingan Road, said from information she received, the buffer zone which the government will cordon off to work on the soil extends to her backyard.

"What else will be added to teh air once this stuff gets disturbed? It will be even a worse health hazard here."

Axworthy -- who tented Saturday night on the site with her daughter and dog -- said the government has spent enough money testing for contamination.

"Now it is time they do something about it."
---
Read about the new


Next article

---
Click here to see the similarities between Sydney and Love Canal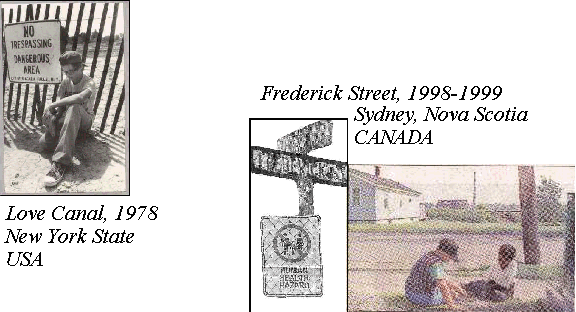 ---
Back to [In the News]

---

---