Muggah Creek Watershed
---
---
PUBLICATIONThe Halifax Chronicle-Herald
DATE Friday July 16, 1999
PAGE A3
BYLINETera Camus
HEADLINE:
Protesters take down tents
Sydney - Following a little prayer, a few tears and a lot of hugs, Premier Russell MacLellan's tenting neighbours pulled up stakes Thursday.

But Ada Hearn says the protesters' fight to be moved from the neighbourhood surrounding Frederick Street isn't over. They are worried about the health effects of living near the former Sydney Steel coke ovens site and the tar ponds, which contain hazardous waste generated over more than century of steel-making.

"We ask all of our supporters in Canada and outside Canada to pray for us ... for those who have died, for those who will die and for those who may die, and most of all, for the children, that their future will be healthy and safe," she told reporters.

The province has offered to buy out homeowners on Frederick Street and Curry's Lane, creating a buffer zone in which tests can be done on toxins migrating from the coke ovens site. Residents on surrounding streets are considering a lawsuit against the province, alleging it is liable for Sydney residents' exposure to toxins. The province owns Sydney Steel.

"I don't have all the information on that right now so I'd rather not comment," Ms. Hearn said. But she said a 1985 study done by the federal government for the province will likely be used. That study warned that restarting the coke ovens without better emission controls would elevate cancer rates in Sydney.

The residents of Whitney Pier would also like to establish a memorial for workers who died from exposure to toxins.

But for now, upwards of 30 people who camped across the street from Mr. MacLellan's home for the past month will take some time to regroup.

"For the next two weeks, we're going to have a little respite, a little one-on-one family time," she said.

The protesters have been camped out since June 22, a day after Ann Ross ended a similar protest. Ms. Ross pitched her tent there when her stay at a Sydney hotel, compliments of the provincial government, ended after a month. The Laurier Street resident was moved to the hotel, along with nine families from Frederick Street, after arsenic was found in some of their basements.

But unlike Frederick Street and Curry's Lane residents, she wasn't offered a buyout because she lives two streets away.

On Thursday, Ms. Ross confirmed arsenic has reappeared in her basement.
---
Read about the new


Next article

---
Click here to see the similarities between Sydney and Love Canal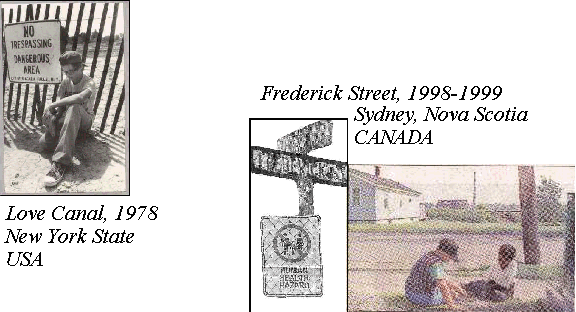 ---
Back to [In the News]

---

---