Muggah Creek Watershed
---
Pier residents demanding answers
By Tanya Collier, Cape Breton Post, May 19, 1999
---
Residents in Whitney Pier want answers from the Department of Environment – now.

About 75 community members raised a number of questions and concerns during an impromptu meeting held by local politicians Tuesday afternoon.

"Are we living in a Love Canal? How affected are the people? Are we affected? Are our children affected? I want some information," said Kenneth Hayward, Tupper Street resident. Resident Phil Best asked why a representative from the Environment Department wasn't at the session to answer questions.

"I'm concerned you (Cape Breton Regional Municipality Coun. Lorne Green) can't answer the questions I, and the rest of the people here, are asking to have answered." Green noted the meeting was held on short notice and representatives from the department could not change their schedule.

Resident Lillian Marsman said 69 families on Tupper Street, Laurier Street, Frederick Street, Curry's Lane, Railroad Street and Hankard Street signed a survey asking the Environment Department to test their water and soil for contaminants. An additional 60 families were not home during the survey but will also be contacted.

The action follows the temporary relocation of seven families from Frederick Street after arsenic was found seeping into their basements.
---
Government officials consider housing options for Pier residents
By Steve MacInnis, Cape Breton Post, May 19, 1999
---
A team of provincial and federal government representatives is continuing its work to resettle residents of a Whitney Pier neighbourhood who were moved out of their homes because of arsenic contamination.

Eight families are now staying at a Sydney hotel while Health and Environment department officials determine how best to clean up the toxic goo which has surfaced in some residential basements.

Michelle Whalen, spokesperson for the Department of Housing and Municipal Affairs, said Tuesday while the use of provincially-owned housing stock is an option, it is not the only one being considered.

She said residents have been offered a number of options, including financial assistance with rent.

"We've asked them to start thinking about options, especially those with children, since we are nearing the last month of school," Whalen said.
---
PUBLICATIONThe Halifax Chronicle-Herald
DATE Wednesday May 19, 1999
PAGE A7
BYLINETera Camus
HEADLINE:

Evacuations compound fears
Other neighbours near Frederick St. scared, want out
Sydney - About 100 angry and scared residents living on a half- dozen streets near toxic Frederick Street say they want out of the neighbourhood until they know it's safe to live there.

"This is not a Frederick Street issue, it's a community issue," shouted Claudine MacDonald of Tupper Street to the applause of her neighbours Tuesday.

A hastily called meeting was organized by Coun. Lorne Green, a resident of Tupper Street, who was flooded by calls since six families from Frederick Street and another from nearby Laurier Street were evacuated last week.

The provincial Environment Department took the measure after arsenic was found in basements on those streets.

Two more families on Frederick Street were evacuated to the Delta Sydney hotel on Tuesday.

"We as concerned parents and homeowners living next to Canada's worst toxic dump have several concerns, first and foremost the safety and well-being of our children and the right, as Canadians, to live in a safe environment," Mr. Green said.

Environment Minister Michel Samson said Tuesday afternoon he hadn't heard about the request by residents of other streets to be relocated. "I'll have to wait to hear that from my staff to get exactly what was said," he said.

"Now we said from Day 1 when we made this decision Thursday it was based on compassion, specifically compassion for the residents of Frederick Street."

Frederick Street borders the former coke ovens site that produced unknown quantities of toxins before it closed in 1988. Currys Lane and Tupper, Laurier and Hankard streets are a stone's throw from each other, and parallel to Frederick Street.

Mr. Green said the government obviously knows there's a big problem in the neighbourhood.

"The fact is that government has admitted it through their recent relocation of residents," Mr. Green said. "But toxins know no boundaries. They do not stop at fences, they do not skip homes, they do not pick and choose streets."

In the past year, tests conducted by the federal and provincial Environment departments determined there were higher-than-acceptable limits of arsenic and other heavy metals and compounds on Frederick Street.

Less than two weeks ago, tests on a recent trickle of orangish ooze on the banks behind one Frederick Street home determined the presence of 49.9 milligrams of arsenic per kilogram of soil. The safe limit is 12.

Premier Russell MacLellan said families were moved last week so more testing can be done.

"Mind you, there will be other decisions," he said Tuesday. "There has to be because the tar ponds and coke ovens are a major problem and we will be coming forward with new statements and new directions.

" Those at the short meeting in the Hankard Street hall demanded a public meeting with the Environment Department. They also want the government to fund a health-risk study and test their water, soil and homes.

"It is preferable to have some objective outsider do the tests," Coltilda Yakimchuk said to applause and shouts of approval.

Terry MacPherson, a spokesman from the department, said in an interview there are no plans for a public meeting. He also said testing may not go to tender but instead could be handed to a firm chosen by the department to save time.

"What we're making a commitment to do is to meet these homeowners one-on-one," he said. "We're planning to move forward, . . . to go door-to-door with an information package we put together. What answers we don't have for them when we're there, we hope to be able to go back and get the answers for them."

The department's study will attempt to determine where the toxins are coming from, beginning with tests on Laurier and Tupper streets.

With Amy Smith, provincial reporter
---
PUBLICATIONCP Wire
DATE Tue 18 May 1999
SECTION/CATEGORY National general news
STORY LENGTH 490
HEADLINE

N.S. prepared to do something for Frederick Street
By Kevin Carmichael

HALIFAX (CP) - Premier Russell MacLellan vowed Tuesday to take care of those who live on the edge of the country's worst toxic waste site.

Last week, the Nova Scotia government placed four families who live on Sydney's Frederick Street in hotels after officials determined a yellow-orange ooze in their basements contained traces of arsenic.

The premier says that's only a first step.

``There will be other decisions,'' MacLellan said on his way into the provincial legislature for the start of the spring session.

``There has to be. The tar ponds and the coke ovens are a major problem. We will be coming forward with new statements and new directions.'' Frederick Street borders the heavily polluted grounds of the former Sydney Steel coke ovens and is not far from Sydney's notorious tar ponds, twin pools of reeking sludge created by almost a century of steelmaking. The federal government has called the pollution the worst in the country.

Residents of the street have complained about health problems for years and have demanded the government move them permanently. About 100 people jammed a community hall in Sydney on Tuesday to demand an immediate health-risk study.

Lorne Greene, a Sydney councillor, said toxins know no boundaries and he questioned how a home on Frederick Street can be deemed unsafe while another home two doors down is safe.

New Democrat Helen MacDonald, who represents a neighbouring riding, echoed Greene's concern at the legislature.

``What's to prevent (the toxins) from moving?'' she asked. ``If there is evidence that people should be concerned for their health and safety in their homes, then the government is going to have to address that by again continuing to temporarily relocate these people.''

Despite his promise to do something for the residents of Frederick Street, MacLellan wouldn't commit to moving more people. ``So far we've moved four families temporarily because we have to do more testing.''

Environment Minister Michel Samson said the government would deal with the problem case by case. But he indicated money wasn't a concern.

``At this point in time, the decision was made on compassionate grounds and we'll worry about finances at a later date.''
Another controversial Cape Breton issue figure prominently in the legislature Tuesday.

Economic Development Minister Manning MacDonald tabled Sydney Steel's 1999 business plan.

The move caught the opposition off guard, especially Tory Leader John Hamm, who has been calling on the government to release the plan for weeks.

Hamm is the most vocal critic of the government's plan put up a $44-million loan guarantee for the perennial money-loser.

The government says the money is just to get the provincial Crown company back on track so it can be sold later next year.

Hamm declined comment on the document late Tuesday. A spokesman for the Tory leader said they needed more time to go over it, and that Hamm would comment today.

Next article

---
Click here to see the similarities between Sydney and Love Canal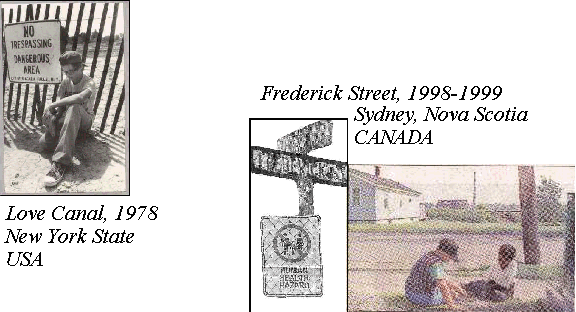 ---
Back to [In the News]

---

---